Mr. Michael Rizzo Chessman on Healthcare
Our efforts to clear Lord Black and ensure a better
outcome included a personalized email campaign
targeting 100,000 top lawyers in the USA and Europe
along with those holding Public Office in these
countries to the full extent of about a quarter of a
million emails, all told. Also included was a rigorous
fax campaign targeting the various members of
Congress including both the Lower House as well as
the Senate.

We even reached the Judges involved by email in
Chicago, asking that Bail be allowed while an
appeal was underway, offering to have included our
submission in the form of an "Amicus brief" Many
high level responses were received, including from
former Vice President Walter Mondale, then in
private practice as a lawyer along with Lawyers
around the USA and Europe, all offering their views
on our claims that Lord Black deserved better justice
than what he would have otherwise faced without
saner voices prevailing as we submitted back then.
We kept Conrad Black posted by email of all the
responses we got and the exchanges we were
involved in, and even got a nice note from his Law
firm which was representing him and which was part
of the Law firms whose lawyers we all reached
individually with our suggestions as to the best
possible arguments for a better outcome, we think.


Earlier we sent about 100,000 emails in respect of
Martha Stewart to Public Officials and Press
worldwide suggesting she had been unfairly targeted
for her human spirit which was supreme without a
doubt compared to those set upon her in an unfair
obvious "witch-hunt" we said. View the videos above
for our full arguments which we advanced on her
behalf and on behalf of all who share our spirit on
the earth, regardless of what would have been the
outcome for the planet as a whole, in the fallout
which was to ensue, to ensure a better existence
of Human beings offering genuine care as Martha is
made capable of doing above all else in her midst
we submit.


We even mailed the Judge who presided over
Martha's case and who rendered the cruel and harsh
verdict whose terms included a period of house
arrest "with no decorations allowed on the walls" a
note suggesting she was pretty much "out to lunch"
on a scale unacceptable to the human spirit in
general, in respect of the injustices inflicted by her
court (not to mention the ankle restraints Martha had
to wear around her home - quite simply inhuman if
not inhumane a thing to do to a gal of her spirit I say!
(and would again to the Judge in person if need
be) .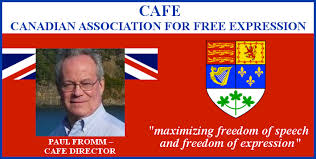 Note received from Paul Fromm of the
Canadian Free Speech movement
Tue, 14 Mar 2006 01:28:39

Dear Michael:

We need your strength.

Paul

Note was in response to our reply on an item
concerning the threat posed to western
civilization from trade related incursions
from abroad


Note: RE: The Canadian Heritage Alliance Hearing
before The Canadian Human Rights Tribunal
(2006)

When Miss Melissa Guille of "The Canadian
Heritage Alliance" (website founder) was before
The Canadian Human rights tribunal for views
appearing at her website, we sent the following
submission on her behalf and as interested
parties in the affair: (link below:)

Canadian Human_Rights Submission
on free speech (britishcanada.org)

Following this appeal, and when the decision in
her matters was announced we received a copy
of the judgment from Paul Fromm who was in
Ottawa with Melissa Guille, and further to that a
nice note from Melissa Guille personally
thanking us for intervening on her behalf and for
the great sense of "fairness" we showed in what
it is we said in regards to The Tribunal regarding
the affair.







Click above for free youtube video
downloader software to download videos on this page

Broadcast quality versions may be downloaded freely
at torrent sites or sent to you on disc/USB medium
(on request)